Sierra Jennings
General Information
Gender
Female
Age
27
Hair Color
Brown
Eye Color
Brown
Birthday
March 15, 1990
Address
Silver Hills, California
Occupation(s)
High School student (All About Us)
College student (Sierra & Kristy)
Lawyer (All About Us: 30 & Hot and The Haines Family Values)
Family & Friends
Family
Samuel Jennings (Father)
Susan Jennings (Mother)
Logan Haines (Husband)
Michael Haines (Son, with Logan)
Aaron Haines (Son, with Logan)
Caitlyn Haines (Daughter, with Logan)
Hannah Meade (Daughter-in-Law)
Friends
Alicia Alcott
Nikki Merrick
Kristy Castelli
Frankie Lewis
Other Information
Series Information
First appearance
All About Us
Portrayer
Camryn Grimes
Sierra Jennings
[[

|[defaults to 250]px]]

Biographical Information
Gender
Female
Born
March 15, 1990
Residence
Silver Hills, California
Family Information
Marital
Married to Logan Haines
Romances
Logan Haines,
Matt Wright
Children
Michael Haines (Son, with Logan)
Aaron Haines (Son, with Logan)
Caitlyn Haines (Daughter, with Logan)
Parents
Samuel Jennings (Father)
Susan Jennings (Mother)
Sibling(s)
Will Jennings (Older Sister)
Leslie Jennings (Younger Sister)
Grandchildren
Emily Montez-Haines (Granddaughter, via Aaron)
Other(s)
Hannah Meade (Daughter-in-law)
Lauren Montez (Daughter-in-law)
Dylan Haines (Son-in-law)
Ashley Alcott (Niece)
Eddie Alcott (Nephew)
Mariah Alcott (Niece)
Ricky Alcott (Nephew)
Tia Frankel (Goddaughter/Niece)
Maya Frankel (Goddaughter/Niece)
Professional Information
Profession
Lawyer
Workplace
Silver Hills, California
Character Information
First Appearance
All About Us
Portrayed By
Camryn Grimes
Sierra Haines (née Jennings) is one of the four main characters of the book series created by the author Maryam Wells. She is portrayed by Camryn Grimes in the books and Zoey Dutch in the TV series. She is known as the sensible, mature main character in the AAU series. Her storylines included her problems with her mother dating again after divorce, learning about her attraction towards the father of Sierra's friend, Nikki, her and Nikki's conflict, and her love triangle with longtime boyfriend, Logan Haines and her rival, Matt Wright. She also had a storyline in college involving her unexpected pregnancy.
Sierra Jennings is the uptight member of the foursome. She works hard and plays harder. From working hard at the gym and soccer to working hard at school, she's the ultimate sports chick/overachiever. Being gifted with athletic skill, and striking, fresh-faced looks, she made herself a force not to be reckoned with. Her years of mastering the bicycle kick kept her from learning how to cake on the make-up. She is driven and thorough when it comes to academics and extracurriculars. She is also blunt and direct when talking to other girls, even her three besties. She is a member of the school newspaper and president of the Student Council.

After high school, she went to Silver Hills Community College along with Kristy, Logan, and the Wright brothers in the series, Sierra & Kristy during her second and last year of community college, she became pregnant with her first child with Logan. Following college, she attend SCU Law and became a lawyer and married Logan. In the Haines Family Values series, she has three teenage children. She is also the grandmother when her second son, Aaron and his girlfriend Lauren's daughter, Emily was born before Aaron and Lauren graduated from high school.
Appearance & Style
Edit
Sierra has light-brown hair, brown eyes, and a small birthmark on her neck. She has a size 4 petite frame.
In her freshman year at Silver Hills High, Sierra changed her look completely. She grew her hair into a shoulder-length hairstyle and got laser eye surgery, so she no longer needed glasses. She began to wear bright colors, complete with her trademark denim jackets. Despite her makeover, Sierra remained the "bookworm" of the AAU foursome.
Throughout the three years of her high school career, Sierra grew her shoulder-length hair longer and she began dressed more formally, wearing suit jackets and floral skirts, as she had begun to go after her career choices. In the first arc, Sierra had straight hair and wore different hairstyles throughout her sophomore year. For the second arc, Sierra cuts her hair into a short curly bob and then grew her hair a few inches in both her junior year and the third arc. In the final arc, Sierra's hair was now shoulder-length and curly.
is the second daughter born to Susan and Samuel Jennings.
Has a little sister named, Leslie and an older sister named, Will.
Writes for the school newspaper, Silver Hills Grapevine.
Parents split when she was in middle school.
Dated Logan Haines for two years until she dates Matt Wright.
Goes to Silver Hills Community College with Kristy Castelli.
Sleeps with Logan Haines to comfort him about his cancer scare, but gets pregnant.
Personality
Edit
Sierra is optimistic, organizing, warm, sensible, and hard-working, just like her mother, Susan and her older sister, Will.
Novel Series
Edit
All About UsEdit
Sierra Jennings is the daughter of Samuel Jennings, an editor for the Silver Hills Beacon. She has an older sister Will, who is a student at Silver Hills Community College. Sierra is a student at Silver Hills High School, a public high school, which her friends, Alicia Alcott, Nikki Merrick, and Kristy Castelli also attends. In the book series, Sierra is described as a 5'3, with redddish-brown hair, while the television show depicts her as a brunette.

Storylines
Sierra was first introduced in the first book episode, All About Us. She was mentioned being in Alicia Alcott's bedroom during their slumber party. She was introduced as the uptight, sensible, straight-A student with a stylish and smart style and close with Alicia. It was revealed that when she was in elementary school that she didn't like Nikki Merrick. During her sophomore year of high school, Sierra had to contend with her mother's new romances, while she begins a relationship with fellow new reporter, Logan Haines. In her junior year, Sierra helped comfort two of her friends following the crisis's in their lives. She comforted Nikki when her parents separated and Alicia when her mother almost died from a brain hemorrhage. Sierra clashed with Nikki's crush, Matt Wright during their junior year.
Al though she loves Logan, during the second semester of her junior year, Sierra had become bored with the relationship. Sierra tells Logan that she needed space. Sierra took a breather from her relationship with Logan, Matt attempted to pursue her. Kristy Castelli tells Sierra that Matt likes her. But Sierra didn't believe her because she didn't like him. Sierra and Nikki get into an argument over one innocent kiss between her and Logan. When an Earthquake hits Silver Hills at nighttime, Matt and Sierra shields themselves to the doorway. Sierra and Matt survives the earthquake (although her home was destroyed) and she moves in with Alicia, where she began a relationship with Matt. Ironically, the earthquake helps to repair her damaged relationship with Logan and they become friends. But Sierra's friendship with Nikki was strained due to Sierra beginning a relationship with Matt, Nikki's former crush. Sierra had to balance her social status after she started dating Matt. Sierra and Alicia had to deal with the death of their least favorite teacher, Mrs. Crawford. Sierra had to write an article about her death in the earthquake and Alicia didn't attend her memorial service due to the memories about how Mrs. Crawford bullied her. Sierra and Nikki patched things up, but senior year was the last year they were spend time together. Sierra and her friends return to school for their senior year. She and Logan break up for the second time. Before their break-up, Sierra worked with Matt Wright on a school project. Matt had always had a crush on her. After Sierra's breakup with Logan, Matt pursued Sierra, much to the dismay of her friend, Nikki Merrick, who had a crush on him two years ago. Sierra had a hard time dealing with being in a relationship with a jock. Sierra still remained on friendly terms with Logan, but is shocked when Logan is seen with Allison Holmes, the cousin of her enemy, Amy Hunter. Sierra also gets an internship with the Silver Hills Beacon, a local newspaper in town where her father works.
Sierra graduates from Silver Hills High, then goes to Disneyland with her friends and ex-boyfriend, Logan Haines for Grad Nite. During Grad Nite, Sierra admits that she'll miss high school, but she is sure will miss Alicia and Nikki after they announce that they were leaving Silver Hills to pursue their careers in L.A. and New York. Sierra tells her friends about her future plans at her first top universities. Sierra and Kristy began attending Silver Hills Community College in their own spin-off series.
Sierra & KristyEdit
Sierra and her friend, Kristy are protagonists in the book series, Sierra & Kristy, which shows their new lives as college, after they graduate high school, say goodbye to their two friends, and move to their new apartment. In Sierra & Kristy, Sierra and Kristy move out of their parents' home and move into an apartment together closer to Silver Hills Community College. Sierra's family deals with Sierra's older sister, Will's engagement to boyfriend, Trent Alcott (older brother of Sierra's friend, Alicia) and her parents sleeping together. Kristy has a bigger problem, her family's pizza restaurant burns down, leaving her and Sierra devastated. Also, Sierra sleeps with her ex-boyfriend, Logan Haines, which results in a pregnancy.
All About Us: 30 & Hot & The Haines Family ValuesEdit
Sierra and Logan return to Silver Hills High in 2018 for their ten-year class reunion. They are seen sitting together smiling, so they are clearly still happily married.
Sierra is now a lawyer working at her mother's old firm in Silver Hills and she's still married to Logan and has three children, sons Michael and Aaron and daughter, Caitlyn. Sierra's marriage is put in jeopardy when she hooks up with an attractive partner, leaving Logan devastated and Caitlyn angry with her mother.
Ski-trip plans in Big Bear are put on hold when Sierra needs an emergency hysterectomy, as for several years she had not managed to fit checkups into her busy schedule. Logan helps her face the situation, but becomes frightened when complications arise during surgery. Logan waits for news on Sierra's surgery. Sierra will be fine, although she had to have her ovaries completely removed, not partially as was first thought.
Relationships
Edit
Relationships
Edit
Logan Haines (Married)

First Relationship:
Second Relationship:
Alicia Alcott - Best Friends - Sierra had the strongest friendship with Alicia Alcott since they met in Kindergarten when Alicia moved to Silver Hills. In middle school, they were the outcast girls who didn't care about popularity. In high school. To see more on their friendship, see the page, Aierra.
Nikki Merrick - Frenemies - Sierra and Nikki are frenemies (Friends and sometimes enemies). They were in Kindergarten in the early 1990's. When Alicia Alcott first moved to Silver Hills and started attending Silver Hills Elementary, Nikki was really snobbish towards her and Sierra sticks up for her and tells off Nikki. Years later, the two became civil to one another, which later progressed into a friendship. The two hung out with Alicia and Kristy in middle school and in high school. When Nikki told Sierra that she was almost date-raped by a campus hunk, Sierra urged her to report it.
Kristy Castelli - Good Friends - Sierra and Kristy are good friends. They get good grades and often hung out with Alicia and Nikki in the AAU franchise.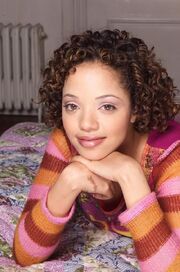 All About Middle School
Edit
The All About Middle School series sees Sierra as a middle school student. She and her friends from the All About Us series (Alicia, Nikki, and Kristy) attend Silver Hills Middle School from 2001 to 2004. Sierra went through the most scariest moment in middle school. In the seventh grade, Sierra worked hard on the Silver Hills Middle School Yearbook for the 2002-03 school year and for the class of 2003.
Sierra later was being harassed by Mr. Peck, a substitute teacher, and she and her friends, Nikki (Peck's previous victim from 7th grade), Alicia, and Kristy reported him. Mr. Peck was fired from his job and arrested for Child Molestation.
In , it was just before the Christmas Holidays and Sierra was seen talking to Kristy in the school hallway, She was glad that 2003 was almost over and she had a big smile and was full of Christmas cheer. Looking forward to the Holidays.
Sierra was devastated when her parents split in early 2004. She was comforted by her sister, Will.
During the AAMS series, Sierra's personal style was much different than her high-school personal style. In the 6th grade, Sierra was forced to wear a school uniform for the 6th grade (White collar top and grey bottoms). She also had a ponytail usually.
In the 7th grade, Sierra straightened her hair and her uniform was changed (she wore a Navy collar top with grey bottoms). She typically wore denim jackets with her uniform. She wore cute clothes after school.
In the 8th grade, Sierra cuts her hair short and added curls to it. Also Sierra wore a Burgundy collar top with grey bottoms for her last year at SHMS.
(To Alicia): "Hey, we were just setting up." (First line) - "All About Us"
"This revolution will not be televised!"
(To Alicia): "I went through a lot since the earthquake. I broke up with Logan and hooked up with Matt Wright. How did senior year get so shitty?"
(To Alicia) "Hey! I missed you so much! How was Summer Vay-Cay in hell?"
"Oh, I thought you'd like to know. Matt's one hell of a kisser." (to her friends)
"Brayden Jones is such an asshole!"
"Do I look like I'm ready to lose my virginity?"
I told you this thing was going to blow up in your face, but did you listen to me? Hell, No!"
"Oh, I thought you'd like to know. Matt's a great kisser." (to Alicia)
Sierra is a Pisces.
She was the only character to change hairstyles in middle school.
Sierra was originally portrayed by Crystal Grant in the 2001 T.V. series of the same name.
Sierra was the second member of the AAU group to face a pregnancy, the first was Kristy.

However, Sierra was actually pregnant, while Kristy's was just a scare.

In middle school she had a crush on K.C. Conrad and was crushed on by Daniel Klein, her nemesis.
She was the only AAU girl to wear braces from elementary school and middle school.
With Logan Haines, she has three children: sons, Michael and Aaron and daughter, Caitlyn.

She gave birth to Michael when she was 19.
She gave birth to Aaron when she was 21.
She gave birth to Caitlyn when she was 24.

She admitted to having feelings for Matt Wright right after he saved her life in Earthquake: Part 1.
Sierra is a green belt in Tae Kwon Do.
Sierra is the only main character to have Post-Traumatic stress disorder (after almost getting crushed to death by a beam in Earthquake: Part 1)
Sierra and Alicia have kissed other boys while in relationships with their boyfriends.
Sierra was the only AAU girl to discover Alicia's menstruation.
Sierra was the only AAU girl to be crushed on by boys she didn't like.
During a interview at Silver Hills Beacon, a local newspaper, Sierra's water broke in Maybe Baby.
Sierra has applied to the colleges of her choice during her senior year of high school
Both her children, Aaron and Caitlyn were delivered via c-section, while Michael wasn't.
Sierra had an influence on Katie Frankel from Just the Seven of Us because she was the smart girl in school, her relationship with an jock, and her conflict with an popular girl. She also had an influence on Kristen Barrett in that they had similar personalities and circumstances. She had conflict with her stepsister, Lexie Winfield who was modeled after both Nikki Merrick and Brooke Madison.
Sierra's school locker is the same locker as her daughter Caitlyn Haines and future characters, Julie Marshall, Kylie Ferguson, and Darcy Nichols and Silver Hills High's graduate Kimberly Hayes.
Michael, Aaron, and Caitlyn Haines, Sierra's children.
Logan Haines, Sierra's husband.
Katie Frankel, character from Just the Seven of Us. See comparison page. (similar behavioral traits)
Kristen Barrett, character from The Stepsisters of Silver Hills. See comparison page. (similar behavioral traits)