""You're Welcome. And the name is Ryan... Frankel.""

―Ryan introducing himself to Alicia Alcott
Ryan Frankel
is a student at Silver Hills High School in the novel series,
All About Us
. He is the main love interest of
Alicia Alcott
.
Appearance & Style
Edit
Ryan has light-brown hair, blue eyes, and a sweet smile. He is also 5'11. Ryan is often seen in casual clothes, in Season 1 he expressed his dislike for tuxes and suits. He often wears jeans and a flannel shirts. Dan has been known to dress up when needed though, such as when he goes to parties or important social events.
Personality
Edit
Ryan is described to be laid-back, smart, calm, and relaxed.
Character Profile
Edit
Ryan appeared in the first book of the series, All About Us as the new guy in school. He was approached by a trendy blonde classmate, Nikki Merrick, who was instantly attracted right off the bat. But, he was attracted to her best friend, Alicia Alcott. Ryan grew up with a father, David Frankel, mother, Ambrosia Stephanopoulos and his four siblings; David Jr., Lauren, Lisa, and Jesse. Ryan is half-Caucasian and half-Greek.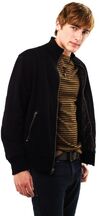 Ryan Frankel is the son of David Frankel and Ambrosia Stephanopoulos and has four siblings. He attends Silver Hills High School as the new guys. In his first appearence of the series, he was crushed on by student, Nikki Merrick. He is described as being attractive and sensitive, loves to write poetry, and one of his poems, Brown Beauty, was featured in The New Yorker. He revealed his favorite word is "Love" and drinks copious amounts of dark coffee and smokes cigarettes, but quits due to Alicia's hatred towards smoking. Ryan has a terrible relationship with his mother, who disapproves of his relationship with Alicia and his passion for music.
Ryan gets diagnosed with Type 1 Diabetes. When he first finds out about it, he gets upset. He pushes Alicia away, but she refuses to leave him. She reveals to him that her father, Edward, her Maternal Aunt, Angela, and Paternal Aunt Regina are diagnosed with diabetes. Once Ryan realizes what Alicia's family members are going through, he apologizes to her for being rude to her.
Novel Series
Edit
David Frankel (father)
Ambrosia Stephanopoulos (mother)
Lauren Frankel (older sister)
Jesse Frankel (younger brother)
Lisa Frankel (younger sister)
David Frankel Jr. (younger sister)
Charlotte Frankel (Step-mother)
Katie Frankel (Step-sister)
Alicia Alcott (Wife)
Romantic Relationships
Edit
Alicia Alcott (Wife)
Alexa Andrews (Ex-Girlfriend)
(To Alicia): "Hey, there. You left your backpack in Ms. Dye's classroom." (First Line) - "All About Us"
"I'm an musician, Ma, not a college student." - To his mother.
(To Alicia): "You have pretty eyes."
Alicia (crying): "I hate this. People expect me to become this good student and I'm struggling. I just don't know what to do!"

Ryan: "Scream. That'll make you feel better."
Alicia: "You did great on delivering your sister."

Ryan: "Thanks. And thanks for being there."
Ryan (to Alicia): "Wow! You're one patriot singer, Silver Eyes."
"This time will be different."
Ryan: "I love you, Alicia Alcott!"
Alicia: "Shut up, Frankel! It's 1:00 in the morning!"
"Come on, Alcott. Admit it, you like Gibson. You really, really like him" (Alicia slaps him).
Ryan: "Did you just kiss my neck?"

Alicia: "Sorry, I've gotta go!"
"Don't bullshit around the issue!"
Ryan is of Greek decent.
During his time at Silver Hills High, he had two girlfriends.
He lost his virginity to Alicia at their senior prom in Prom Night.
He was crushed on by both Nikki Merrick and Frankie Lewis.
He delivered his half-sister, Katie during the Silver Hills Earthquake, making him the first character to deliver a baby. The second was Scott Barringer, Katie's boyfriend from Just the Seven of Us.
Due to his rocky relationship with his mother over his relationship with Alicia, Ryan moved in with his father and stepmother.
He has two daughters with Alicia; Tia and Maya.
Ryan, Matt, and Scott all share the same line, "Are you okay, babe?"
Ryan is the second character to suffer appendicitis. The first was Billy Simpson from Just the Seven of Us.

Unlike Ryan, Billy suffered appendicitis while he was at a school dance during a rainstorm.

Several of Ryan's songs were co-written by both AAU writer, Maryam Wells and songwriter Matthew Gerrard, who wrote Wells' songs from Being Maryam.