"People think just because I have blonde hair, I'm the most dumbest girl in school!"

―Niki, from Under 21
Niki Merrick
[[Image:

|250px|center]]
General Information
Gender
Female
Age
15
Hair Color
Blonde
Eye Color
Blue-Green
Birthday
April 11, 2004
Address
Silver Hills, California (All About Us)
New York City (Niki in the City)
Occupation(s)
High School student (All About Us)
College student (Niki in the City)
West Coast Fashion Editor at Flair Magazine (All About Us: 30 & Hot)
Fashion Designer (Niki Merrick 24/7)
Family & Friends
Family
Eric Merrick (Father)
Elizabeth Merrick (Mother)

Brent McKendrick
Kate McKendrick (Step-Sister)
Paige McKendrick (Younger Half-Sister)
Sarah Giuliani (Older Half-Sister)
Dylan Meade (Son, with Peter)
Hannah Meade (Daughter, with Peter)
Mercedes Meade (Ex-Niece)
Michael Haines (Son-in-Law)
Relationships
Devon MacGreggor (Ex-Crush)
Kevin Garrett (Ex-Boyfriend)
Matt Wright (Ex-Crush)
Logan Haines (Kissed)
Maria Lopez (Ex-Girlfriend)
Ryan Frankel
Friends
Alicia Alcott
Sierra Jennings
Kristy Castelli
Frankie Lewis
Pet(s)
Fiona (Cat)
Other Information
Interests
Fashion, Reading fashion magazines, styling, designing
Talent
Styling and Desiging
Vulnerabilities
Being labeled as a "Dumb Blonde"
Series Information
First appearance
All About Us (Book)
Portrayer
Paige Diaz
Nicole "Niki" Merrick is one of the four main characters of the book series All About Us created by the author Maryam Wells. She is portrayed by Paige Diaz in the book series and by Marieh Delfino in the TV series back in 2001. She appears to be shallow due to her rich and popular status, but gradually reveals more depth. She is best friends with Alicia Alcott and Frankie Lewis and good friends with Sierra Jennings and Kristy Castelli. Her storylines included her almost being date-raped by a popular senior, her depression with her parents' divorce, her dealing with it, her friction with friend, Sierra Jennings, her relationship with a boy who was deaf, and finding out she has an older sister she never knew.
After the events of All About Graduation, Niki moved to New York to intern at a fashion magazine and attend fashion college. In her new series, Niki in the City, she dealt with her mother getting remarried to her new boyfriend and her new stepsister, Emma who lost her mother when she was a kid and that she has an learning disability.
In several Teens of Silver Hills series taking place years after the end of All About Us, Niki Merrick became a famous fashion icon.
Appearance
Edit
Niki has medium long honey-blonde hair, light-blue eyes, a heart-shaped face, and an thin ballerina dancer-frame. She's also 5'6. She is the trendiest girl in the All About Us main characters. In the first arc of the series, Niki had long straight hair in her sophomore year. In the second and third arc, her hair was changed into a wavy hairstyle for her junior year. In the last arc of the series, Niki hair was cut to shoulder-length and was in either the style of straight or curly.
Personality
Edit
Of the four girls of the series, Niki's the one who acts like the most typical teenage girl—obsessed with fashion, boys and her appearance. She is described as a shallow, materialistic gossip-girl who is ditzy and can have an occasional bitchy nature, but she is good-natured.
Background
Edit
Niki Merrick is trendy and talkative. She had a penchant for dating jocks and being a shallow vixen. She is the clique's fashion expert and the gossip queen of Silver Hills High. She comes from a wealthy family; her father is a surgeon and her mother is a matchmaker. She has a talent of shopping, gossiping, and being interested in boys. Niki is part Italian, English, Swedish, and Irish. Like two of her best friends, Alicia Alcott and Sierra Jennings. Niki's parents, Elizabeth and Eric Merrick met in college and married during their sophomore year of college. Since leaving her California life in Silver Hills after high school graduation, she has moved to New York to start her internship at fashion house, House of Glam.
In both All About Us and Nikki in the City, Merrick has become internationally recognized as a style icon. Her career in fashion includes designing a line of jeans for Rock & Republic and later designing her own denim brand, dVb Style. Beckham has brought out her own range of sunglasses and fragrance, titled Niki Blossom, which has been released in the UK and the US. In association with the Japanese store Samantha Thavasa and Shiatzy Chen, she has produced a range of handbags and jewelry. In addition, Merrick has released two best-selling books; one her beauty guide, the other a fashion guide. She was a talented artist and is also very interested in fashion, as shown through her unique sense of style.
In All About Us: 30 & Hot, Merrick is married to Patrick Meade and they have two children, fraternal twins, Dylan and Hannah.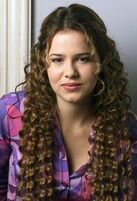 Novel Series
Edit
All About UsEdit
When introduced, Niki was presented as a popular, privileged girl who placed high value on posh appearances and material possessions. However, the character's layers would become increasingly revealed throughout the progression of the continuity's first series. She was portrayed as the self-centered, fashion-obsessed, boy-crazy girl with a heart of gold. Niki is the daughter of Eric and Elizabeth Merrick. Eric was a surgeon and Elizabeth was a wedding planner.
In the first AAU episode, All About Us (Book), Niki tried to flirt with new student, Ryan Frankel, because of his good looks. She continued to make moves on him, but he developed a crush on her friend, Alicia Alcott.
In Weekend at Alicia's House, Niki spends the weekend at Alicia's house while her parents were at a medical convention. Niki tried to adapt to eating food Alicia and her family eat, unlike the food she eats and even the rules and curfew. But she had trouble with it. Also, she revealed to Alicia that she had always had a crush on Alicia's older brother, Trent. But their friendship was threatened when Niki comes home past curfew and Alicia's parents try to discipline her. Niki storms out of the house in anger. Alicia's parents tell her that because of Niki's rebellious behavior, they forbid her from being friends with her. Alicia was stunned that her parents won't let her hang out with Niki. Alicia tells Niki to straighten up her act and be more respectful towards her parents and they'll let Alicia and Niki hang out again, but Niki is grounded for two months for disobeying Alicia's parents during her stay with them.
In No Means No!, Niki developed a crush on popular senior, Devon MacGreggor, who was the captain of the Silver Hills High boys' varsity basketball team. Niki flirted with him and then he asked her out on a date. But when the two were making out in his family living room, Devon tried to have sex with her by unzipping her dress. Niki didn't want to and this led to him slapping her and Niki fighting him until she finally escapes. The next day, Niki is traumatized from her experience and being
In Holey, Mole-y, Niki began to grow suspicious about the large mole on her right shoulder after she tried on trendy outfits for a date.
Niki in the CityEdit
Niki is the protagonist in the book series, Niki in the City, which shows her new life, after she graduates from Silver Hills High School, and starts interning at - in New York. In Niki in the City, Niki moves in with her aunt Francine Quimby, a New York socialite, and her twin cousins, Taylor and Jessica Quimby following her high school graduation and works as an intern at Mademoiselle magazine.
All About Middle SchoolEdit
In the All About Us prequel All About Middle School, Niki is a student at Silver Hills Middle School from 2001 to 2004. She is shown to be the bubbly, ditzy, and somewhat stuck-up.
All About Us: 30 & HotEdit
In the new series that features the AAU girls as grown women, Niki is a an businesswoman, fashion designer, and a former model. She is married to the heir of a powerful publication company and has two children with him fraternal twins, Hannah and Dylan.
Niki Merrick 24/7Edit
In the spin-off of All About Us: 30 & Hot, Niki Merrick is juggling her life in New York as a fashion designer, businesswoman, wife, mother, and reality star.
Fashion Label
Niki eponymous fashion line, Nikki Merrick, debuted at New York Fashion Week. Her collection is retailed at Saks Fifth Avenue and Neiman Marcus. She was named one of Crain's Top 40 Entrepreneurs Under 40, which reported that his line had brought in over $1.2 million in revenue. In 2012 the New York Times reported that revenue was estimated around $5 million. In September 2012, the first Niki Merrick flagship store was opened on Elizabeth Street in Manhattan's Nolita neighborhood. The store launch included celebrity guests like -. Niki will launch her first fragrance in early 2014.
(To Alicia; Referring to Trent): "He's really is cute, though." (First line) - "All About Us"
"Oh, FYI, your 'friend' is visiting in three days."
"It's like facing down the cashier who says you're too old to get the free toy with the kids' meal!"
"The brain has no control over the heart. Notice how much deeper I've gotten since I've been studying the '60's?"
"Do mankind a favor,"
"Boyfriends are temporary. Friends are forever."
"Ignore Amy, she's a total bitch."
I can't help it if I like another guy."
"Alicia, you addicted to lust."
"Isn't lust an adult word?"
"Sex, is an adult word. Lust is just... Lust!"
"People think just because I have blonde hair, I'm the most dumbest girl in school!"
You and mom always taught me the importance of honesty, and you never been honest with me about the fact that I have an sister?!
Why don't you go shopping, that's what I do when I get bored?
Mentioned
Edit
In , during an Earthquake drill, the kids of Just the Seven of Us, noticed Kristy's strange behavior towards Earthquakes. She reveals to them that she nearly lost a friend to an Earthquake because she was injured.
Influences in Teens of Silver Hills
Edit
Brooke Madison, who attended Silver Hills High in Just the Seven of Us, was a popular girl in her era. Like Niki, she was fashionable and boy-crazy. She even had friction with her friend, Katie, who was the school's brain.
Lexie Winfield, who attended Silver Hills High in The Stepsisters of Silver Hills, was a popular girl after Brooke Madison graduated. She had blonde hair like Niki and she was a cheerleader.
Tori Sullivan who attended Silver Hills High in Beatrix, was nearly date-raped by popular guitarist.
Ellie Morgan, who is now attending Silver Hills High in Beatrix has blonde hair and blue eyes like Niki and who also loves pink.
Niki has appeared in 53 book episodes of All About Us.
She is an Aries.
She had a crush on Trent Alcott in the series.
Niki has been called a spoiled brat by two people: Sierra and Josh.
She was originally portrayed by Marieh Delfino in the TV version of All About Us on TNBC in 2001.
Niki was originally a brunette in the TV series of AAU, in the books, she is a blonde.
She is shown to have an interest in fashion and planned to enter fashion school after high school.
Niki was almost date-raped by a senior, Devon MacGreggor in No Means No!.
She has a list of trade marks.

She is right handed.
Her hair styles change numerous times, but she remains a blonde.
She smiles and pouts all the time.
Her favorite shoes are high heels.
Her favorite fashion accessory is handbags.
Her favorite movie is Legally Blonde.

Niki got accepted to FINY (Fashion Institute at New York), a fashion college in New York in The Engagement.
She was on FOX Family's List of "It" girls.
Her favorite fashion icon is Victoria Beckham.
Some fashions she wore in chapters of every AAU books were created on polyvore.com.
Niki and Sierra's parents went through a divorce in different episodes and story arcs.
Niki had a huge crush on Matt Wright, but the two never dated.
Author Maryam Wells can see Niki in the fashion world 10 years after her graduation and married to a rich man and have two children a boy and a girl.
Niki has told two people to shoo many times, the first being Alicia the second being Logan.
Niki and Alicia share the line, "Hello, Fashion World!"
Her favorite celebrity couple are David and Victoria Beckham.
Niki shares several similar traits with 90210 character, Kelly Taylor:

Both were popular in high school.
Both girls lived with their mothers, however, Nikki lived with her mother after her parents' divorced.
Both were blue-eyed blondes.
Both had conflicts with "Bad Girls".
They were sexually assaulted.

Niki was almost date-raped and Kelly was raped numerous times.

Both had a relationship with a friend's boyfriend, though Nikki's was just a crush.

Niki shares several traits with the Facts of Life character Blair Warner. Both of them have blonde hair, came from wealthy families, were snobbish, but with a heart of gold. The only difference between the two is Blair attend a all-girls boarding school while Niki attended public school. Niki's frenemy relationship with Sierra is also similar to Blair's rivalry with character, Jo.
Niki had a romantic interest in her friends' boyfriends:

She had a crush on Ryan Frankel and flirted with him.
She dated Matt Wright before he dated her friend, Sierra.
She kissed Logan, who was Sierra's ex-boyfriend at the time.

Niki and Sierra have been in a relationship with Matt Wright.
She was the only character to have an interest in plastic surgery.
She has received fashion's highest honors.

She won Best Dressed International Female at "Flair Style Awards" in New York.

Voted Best Dressed Icon for the year 2000 by "Heat Wave" magazine. Also voted Best Dressed Couple (shared with her husband, Peter).
In All About Us: Wedding Event, She and her future ex-husband, Peter attended Alicia Alcott and Ryan Frankel's wedding in Silver Hills.
After divorcing Peter, she lived in a modern contempary house with her twin children.
She gave birth to fraternal twins at age 25, a son Dylan James Meade and a daughter Hannah Marie Meade in New York. The children's father is her ex-husband, Peter Meade.
She gave birth to
Her wedding dress (to Peter) is by Monique Lhuillier.
In Give Us Strength, she attended Edward Alcott's repast.
Niki was the one who talked Alicia out of leaving Silver Hills in Holey, Mole-y.
She attended Trent Alcott and Will Jennings' wedding in.
She attended Alicia Alcott's 21st birthday in -.
She attended Sierra Jennings' baby shower in -.
In the beginning, Niki was an only child. However, after her parents' split, she had gained three sisters.

She has an older half-sister, Sarah from her father's previous relationship with an old high school girlfriend.
She has an younger half-sister, Paige from her mother's marriage to Brent McKendrick.
She has an step-sister, Kate from her mother's marriage to Emma's father.

Her dress to the Homecoming Dance from - is by .
Relationships
Edit