All About Us

Author(s)
Maryam Wells
Country
United States
Language
English
Series
All About Us
Genre(s)
Chick-it, Comedy, Drama, Young-Adult Fiction
Publisher
Xilbris Publishing
Publication date
Unknown
Media type
Print Hardcover and Paperback and e-book and Audio book
Pages
240 pages (paperback)
ISBN
Unknown
Followed by
Weekend at Alicia's House
All About Us is the first book in the All About Us series by Maryam Wells. It tells the story of four girls - Alicia, Nikki, Sierra, and Kristy - and their lives in Silver Hills, California. The book was written for Xilbris Publishing.
Back Summary
Edit
Welcome to Silver Hills, California. A place were the wealthy and the not-so wealthy live. It's a great place for Silver Hills teenage residents: Alicia Alcott, Nikki Merrick, Sierra Jennings, and Kristy Castelli.
All four girls are life-long best friends with different personalities; Alicia is an aspiring singer and dancer and comes from an mixed-raced family; Nikki is a superficial rich girl obsessed with clothing and boys; Sierra is an impassioned activist and an overachiever and sometimes the voice of reason; and Kristy is athletic girl who is close to her Italian family, which owns an Italian restaurant, where her father does the business and her mother is the principal at Silver Hills High School.
Throughout the ups and downs and adolences, the four girls go through life all together.
The friends are playing a game of "truth or dare," but Alicia thinks the dares are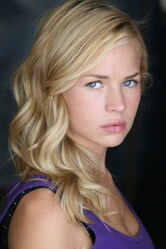 too tame. She challenges Nikki to call up the new boy at school, Ryan Frankel. Nikki gets his answering machine and leaves a
message for him to call her. Then Alicia dares Kristy to take them all for a ride in her father's beloved vintage '65 Mustang. The girls go to the Kristy's pizza restaurant where they distract Mr. Castelli while she gets the keys to the car. While out riding in the car, Cris had difficulty shifting and when Alecia tries to help, they strip the car's clutch plate. Kristy's older cousin Mario comes out to help but the car will need a specially-ordered part. Kristy has the car towed back home and plans not to tell her parents, but to get the part and have it replaced without his knowing. Meanwhile, she and Alicia have a falling out when Kristy blames Alicia's dare for causing the whole problem in the first place. Nikki is getting frantic because Ryan hasn't returned her call. Back at the restaurant Mr. Castelli says he and Steve are going to a Mustang rally in a couple of days. Kristy tries to make up reasons why her father shouldn't to go to the rally, saying that it is "unsafe" somehow, but he's unconvinced. Later
when the girls are together, Kristy decides she must tell her father what she has done. Sierra then confesses to Nikki that Ryan has failed to call back because she told him Nikki's call was a joke. Sierra admits that she wanted to go out with the guy herself. Rather than being mad at Sierra, Nikki is relieved that she hasn't "lost it." While Kristy is telling her father the truth about the car, Alicia comes in and takes the blame also. Mr. Castelli had figured out what happened, but he let the girls squirm a little because they didn't tell the truth. Kristy and
Alicia get grounded for their actions, but their friendship is back on track.
OK... back to the interesting part about me. - Nikki
Nikki, Ryan didn't call you for the reason you don't wanna believe he didn't. - Sierra
Huh? - Nikki
Kristy: Do you have any idea how many auto-related fatalities happen in a car?
Mr. Castelli: I'm guessing all of them.
Chapter 1
Alicia Alcott opened the cabinet door in her kitchen and pulled out a bag of potato chips. Then she opened another cabinet door and got a large party bowl for the chips.
 She placed the bowl on the small dining room table, while opening the bag of chips. She poured the chips into the bowl and wrapped the bag up and placed it back in the cabinet.
Alicia was planning her annual Girls' Night In party in her house for her longtime best friends.
That meant hours of watching girl movies, eating junk food, talking about boys, fashion, and teachers, and having their own fashion show.
"Hey, runt," Alicia's older brother, Trent called out as he opened the front door of the Alcott household.
"Hey, turd. I thought you were living on campus?" Alicia asked Trent. Trent is currently a freshman at Silver Hills Community College, while Alicia and her friends are sophomores at Silver Hills High. Alicia thought deep down, Trent wanted to spy on Alicia's friends. But Trent hasn't dated any high school girls since his high school days came to an end a year ago. He was more interested in college women, who live in dorm rooms instead of their parents.
"I am. Just because I live on campus, doesn't mean I can't come home."
"You're gonna spy on me and my friends at my party, are ya?"
"Yeah."
"Trent, you're in college. You're supposed to be interested in college girls, not my friends."
"What does that mean?"
"It means that you're not invited to my party, let alone spy on my friends."
Alicia made it clear to Trent that he shouldn't spy on her friends while they were houseguests.
Besides Trent and Alicia lives with both of her parents, who are a happily interracial married couple, her father was black and her mother was white, and she has a little sister named Lily. Alicia and her family have lived in Silver Hills, California since they moved in 1996. The 1990's were Alicia's favorite decade because she was born there. Back then, kids were saying cool words like smokin'; Alicia's cool words in the early 90's were goo-goo ga-ga.
   "Do you want me to carry to your room?" Trent asked nicely. But Alicia knew that this was Trent's attempt to get into her bedroom.
"No older brothers allowed, Frizz ball," Alicia yelled, thinking her brother was tone-deaf.
"Fine. I'll just go hang out with the guys!" Trent walked away to his former bedroom, which his and Alicia's mother had turned into her yoga room after Trent moved out a few weeks ago. Alicia carried a bowl of chips to her bedroom. She knocked on her bedroom door, which was unusual for her. She had her hand full.
  "Hey, I'm back!"
"Hey, we were just setting up," Sierra Jennings said, taking out things from her sleeping bag. Nikki Merrick took out her make-up from her zebra print make up bag and a bunch of fashion magazines from her zebra-print tote.
Kristy Castelli brought Pictionary.
"Trent was trying to scheme his way into the party."
The girls laughed.
"Trent cracks me up," Kristy giggled.
"He really is cute," Nikki gushed. Nikki has always had a crush on Trent, and Alicia has always known it. She thought that her own best friend dating her older brother was crazy and nasty. But Alicia didn't say a word.
Alicia puts the party bowl of chips down on her bed, just as Kristy snatches the bowl from the center of the bed.
"Kristy?!"
"What? I'm starving," She asked stuffing her mouth with chips.
Alicia went inside her closet and went through every flannel or plaid shirts to give to Kristy. Plaid and Flannel shirts weren't Alicia's type of tops she would normally wear. They looked like tops her tomboyish best friend would wear.
"You can have my tacky green plaid shirt," Alicia said handing Kristy the tacky green plaid shirt she pulled from the plastic hanger.
"Hey, I saw this from Forever 21!" Alicia, Nikki, and Sierra turned their heads to Kristy quickly. They didn't see Kristy as the girl who would look at clothes from a fashionable boutique where Alicia and Nikki would shop at.
"What?" Kristy asked.
"Since when do you look at clothes at Forever 21?" Sierra asked her.
"Since my mother took me there. She wanted me to dress like a mature young lady than dress like a boy."
"I went there hundreds of time with my mom to buy new outfits," Alicia stated. The girls laughed.
"What?" She asked them.
"Alicia, the only time you go to any boutique, you never check out the clothes. You check out the accessories," Nikki explained, applying Hot Pink nail polish on her acrylic nails.
"Ah, doing your nails at home, Nikki?" Sierra asked painting her fingernails with a Dark Purple nail polish.
"Hey, I do my nails at home!" Nikki said defensively. Her best friends didn't think that Nikki Merrick, the wealthiest girl in Silver Hills, would do her nails at home.
"Just because I'm rich, doesn't mean I can't do my nails at home. Or give myself a facial at home for that matter."
Alicia was still giving the plaid and flannel tops to Kristy, when she pulled out her jewelry making kit.
"Still making jewelry, huh Alcott?" Nikki asked.
"Yep, I like making jewelry. My mom thinks my jewelry are nothing but child's play."
Alicia had a Cousin jewelry making kit she bought on her 15th birthday during Silver Hills' hottest summer week.
She was more the arts and crafty, unlike her best friends; but they were supportive.
"What's with the gold tassels?" Kristy asked.
"Oh, I just bought them at Michael's. I ran out of things to use for jewelry making." The gold tassels were for Alicia's new earrings she was going to make. The third tassel was used for her new long necklace with a long gold chain.
"Alicia, you should forget about a singing career and launch a jewelry making business," Kristy told her.
Alicia laughed. Although she loved making jewelry for living, singing sweet songs was always Alicia's passion. Like Nikki's passion was fashion, Sierra's passion was journalism, and Kristy's passion was baking.
Nikki was still painting her nail with MAC dark plum nail polish, which belongs to Alicia.
The time was getting around 9:00; it was time for a chick flick. Alicia picked out Clueless & Pretty in Pink she rented from the video store. She just loved either the teen comedy scene or the fashions the stars wore in both movies. Nikki watched Clueless a hundred times, because she loved the lead character's outfits. Who else can pull off the trend of high-knee socks with cute Mary-Jane shoes? Alicia always thought that a fashionable woman named Mary-Jane invented the Mary-Jane shoes by wearing them with trendy outfits.
Kristy and Sierra never liked Clueless, no matter how many times they try to watch, even though it was premiered when they were 5-year-olds who were too young to understand the teen scene. But when they got older, they still didn't like it. Because they thought that Clueless' lead character was super shallow and full of herself, which Nikki loved about her.
"Y'know Clueless has the Fashion 101 special on DVD?" Alicia asked her best friends.
"Ooh, Fashion. My Fave!" Nikki shouted out. The word "Fashion" was always Nikki's favorite.
Alicia pops the Clueless DVD into the DVD player and presses play.
  Nikki gave Sierra a few beauty tips on how to keep her eyebrows in tip-top shape. This was something she received from Seventeen. The last time Sierra tried to make her eyebrows thinner, she accidentally shaved off half an eyebrow. She had to use her mother's liquid eyeliner to hide the evidence.
"Remember, you use the tweezers to pluck under the brow. No matter how painful it gets," Nikki reminded Sierra. She wanted to pluck Kristy's bushy brown eyebrows, because they looked like Kristy hadn't had her eyebrows fixed since 8th grade. But tomboyish Kristy wasn't interest in Nikki's beauty makeovers.
"Whoa!" Nikki leaned backed to Alicia's vanity.
"When was the last time you plucked your eyebrows, Kris?" she asked.
"Uh… never?"
"Try 8th grade," Alicia added.
"Okay! Okay!" Kristy got defensive.
"I once tried to shave my eyebrows, but half of my eyebrows got shaved off!!
The girls laughed. They once tried to shave their thick unplucked eyebrows with their fathers' razors when they were in 9th grade.
But they did try to shave their legs. Alicia started shaving her legs in the 7th grade, while Nikki and Sierra shaved their legs in the 8th grade. Kristy didn't shave her legs.
As Nikki tied to pluck out some of the hairs of Kristy's eyebrows, Alicia browse through the catalog of Lulu's fashion lounge. She was in awe of the black fedora hat in the Hat & Accessories section.
"You're looking at another hat?" Sierra asked in an annoyed tone of voice.
"Yeah. Why?"
"Alicia. You already have a closet full of hats, beanies, headscarves, etc."
"Yeah. You have more hats than Blossom Russo!" Nikki agreed with Sierra.
"You should stick with the Jewelry section. You love jewelry!"
Alicia ignored her friends and kept scanning her eyes on more hats she was interested in purchasing.
Alicia flipped through the pages to the Jewelry section and caught a glimpse of Triangle Your Best gold earrings.
"Oh. The Triangle Your Best gold earrings big and edgy. Just like you," Nikki said, glancing at the earrings in the catalog. An hour later, the girls talked about their teachers at school about how they can be a pain in the ass to each girl.
"Ms. Dye is bitchin' about my Geometry assignments. She thinks I never do the work."
"Nikki? You never do the work, period," Kristy reminded her.
"Ms. Dye can be such a bitch," Alicia commented.
The girls laughed.
"What about the hot boys of SHH!" Nikki exclaimed.
Nikki was the extreme boy-crazy girl in Silver Hills. She has a slambook in her princess-themed bedroom about the guys of their school. Although she was a sophomore, she has kept up-to-date on the hottest boys at her school. She brought her slambook to the party to show her girlfriends the latest guys show wrote about this week.
They took a glimpse at Nikki's slambook and saw the hottest jocks and brains in every section of the book.
"This is like your little black book, Nik," said Alicia.
"More like Nikki's big pink book," Sierra replied.
Kristy recognized Ryder Masterson in the book. He once criticized her for being a female basketball player. He was like that because she once made ten hoops at the Rancho Cienega Sports Center, kicking Ryder's ass in the process. But deep down, Ryder thought Kristy was the hottest girl in school.
Kristy was the type of girl who didn't dress over the top like Alicia and Nikki nor dressed conservatively like Sierra. She would come to school in a plain denim jacket, regular blouse, jeans, and converse high-tops.
The girls laughed and gossiped about the cutest boys in Nikki's slambook until bedtime at 10:30.
Chapter 2
On a beautiful Monday morning, around 10:25, Sierra walks out of the cafeteria with her blueberry muffin, string cheese, and low-fat milk. Alicia, Nikki, and Kristy were with her as she walked down the steps of the cafeteria.
"Why is it that the cafeteria gets crowded every single freaking day?"
"That's the same question my dad ask when girls like us scream when they hear the names of boy bands."
As the girls were walking to the destination of their table hangout, boys were staring at them as they were labeled the most stylish or the most hottest girls in school.
The girls arrived at their designated table at the school's courtyard with their breakfasts; hot cocoas, textbooks, and stuff on their minds.
"I can't believe I have to contend with Ms. Dye after nutrition," Kristy moaned. Ms. Dye wasn't her favorite teacher. In fact she was nobody's favorite teacher in the history of Silver Hills High. She would give Sierra, the school's most smartest bookworm, a stupid-ass B, much to Sierra's annoyance.
They think Ms. Dye hated the girls because they dressed hot and don't care about grades.
As the girls talked about Ms. Dye, they spotted
This is the first episode of the AAU series.
Ryan is introduced in this episode.