"That's just plain crazy"

―Alicia's catchphrase
Alicia Alcott
[[

|[defaults to 250]px]]

Biographical Information
Gender
Female
Status
Alive
Born
August 26, 2004
Residence
Silver Hills, California
Title(s)
Leesh (Everyone)
Leesha (by Trent)
Silver Eyes (by Ryan)
Alcott (by Ryan)
Family Information
Marital
Married to Ryan Frankel
Romances
Ryan Frankel (Husband, in love with)
Josh Wright (Ex-boyfriend)
Children
Tia Frankel (Daughter)
Maya Frankel (daughter)
Parents
Edward Alcott (Father, Deceased)
Alice Alcott (Mother)
Sibling(s)
Ricky Alcott (Older Brother, Deceased)
Trent Alcott (Older Brother)
Brittany Alcott (Younger Sister)
Other(s)
Will Jennings-Alcott (Sister-in-law)
Professional Information
Profession
Recording Artist
Jewelry Designer
Character Information
First Appearance
All About Us
Seasons
4 (All About Us)
2 (Alicia Revealed)
Portrayed By
Logan Browning
Alicia Joy Frankel (née Alcott) is one of the four main characters of the All About Us book series created by author Maryam Wells. She was portrayed by former singer Alecia Elliott in the 2001 T.V. version of the same name and by Logan Browning in the book series. Alicia is a young woman who grew up with a passion for music. She juggles living in Silver Hills raising her family and Los Angeles with her career as an performer. She is best friends with Nikki Merrick, Sierra Jennings, Kristy Castelli and Frankie Lewis. Her love interest in the series is Ryan Frankel. In the final episode of the series, All About Graduation, Alicia leaves Silver Hills to go on tour with her cousins.
Alicia is a singing sensation, and throughout her high school career, she has pursued singing records, and has performed at many gigs. Eventually since her high school days, Alicia has become a famous recording artist, with several characters in later spin-offs as her fans. Her storylines from the AAU novel series included her hellish sophomore year of high school, her passion for music, her rebellious stage, her struggles with Binge-Eating Disorder, and her relationships with Ryan Frankel and Josh Wright.
Appearance
Edit
Alicia has super-curly light-brown hair with red streaks, hazel eyes, olive skin, C-cup size, and she is 5'4. Her father Edward Alcott is black and her mother Alice Alcott is biracial. In the four arc of the series, she had light-Brown with red highlights in her sophomore year in Arc 1. In her junior year, she added white and red highlights to her now-straight light curly brown hair for Arcs 2 and 3. In the final arc of the series, she changed her brown hair to black and added purple and white highlights. In the spin-off, Alicia Revealed Alicia, now a high school graduate and living in L.A., she changed her hair to blonde with red highlights.
Personality
Edit
Alicia doesn't hide her pretty femininity behind a tough facade full of attitude and fire. She dresses in her own, carefully cultivated neo punk style. She's an amazing singer and plays the guitar as the front person to her own band. Alicia uses her biting wit to hide her real emotions, except in her music, which reveals her passion and sensitivity. She also has a great capacity for caring about others. She is intelligent but does not always apply herself to her schoolwork, except in creative writing, at which she excels. As a musician, Alicia is best able to express herself in her music.
Trademark
Edit
Her trademark style was urban rocker chic.
blondish-brown hair with different color highlights.
Sparkling grey eyes (nicknamed "Silver Eyes").
Olive Skin
Background
Edit
Alicia is a American R&B and pop recording artist, dancer, actress, television personality and fashion designer. Back in Silver Hills, Alicia was a normal California teenager with two loving parents, an older brother, Trent (College student) and a little sister, Brittany (Fourth grader). Her Uncle Michael is her father's younger brother. She has been friends with Nikki Merrick, Sierra Jennings, and Kristy Castelli since she was in elementary school. In Holy, Mole-y, it is revealed that Alicia has a learning disability, which makes her slower than her three best friends. Alicia finds her learning disability frustrating and hard.
Maryam Wells, author of All About Us, recently released her new prequel series, All About Middle School as part of her young adult series that follows the All About Us characters as teenagers. This novel reveals that Alicia attended Silver Hills Middle School, in the early 2000's. It also reveals that during her middle school days, she wore a school uniform and that she didn't wear rocker chic outfits back then. TV Guide described the preteen version of Alicia Alcott as "Even when she's trying to play adult in the city with her fashion-forward style and 'grown-up' conversations, she still exudes an aura that manages to be innocent, cute and self-confident at the same time."
Novel Series
Edit
All About UsEdit
Alicia Alcott is the 15-year-old daughter of a black man, Edward Alcott from Alabama, an editor for beat poets who has never been published himself, and his biracial wife, Alice Alcott, who married Edward despite her parents' objections. She has an older brother Trent, who is an ladies' man and a younger sister, Brittany. Alicia is a student at Silver Hills High School, a public school in Silver Hills, California, which her friends Nikki, Sierra, and Kristy also attend. In the book series, Alicia has an on and off again attraction and a relationship with Ryan Frankel, a bandmate in her band at school.
In the episode The Engagement, Alicia and her brother, Trent make big decisions on their futures despite their parents' objections. Trent decides to marry Will Jennings and Alicia wants to move to L.A. to be signed by record company and to be a recording artist.
In the last episode, All About Graduation, She later moves to Los Angeles to try and get a recording contract. In 20 years, she will have become a huge singing sensation.
Alicia moves to L.A. to make it as a singer, she attends the Los Angeles School of Pop. She gets signed by Smash Records and releases her debut album, Alicia Revealed, which becomes a hit record with four hit singles. Followed by for follow-up album, Viva La Diva. Then, in Give Us Strength, as Alicia prepares to start work on her third album, she receives distressing news, her father, Edward gets sick and Alicia puts her third album on hold and returns to Silver Hills to be with her family. Alicia is soon filled with regret that she foregoes college to move to L.A. to be a recording artist and letting her father down. As her father lays in a hospital, Alicia stays with her mother and her sister and helps out in the house. Alicia ended up butting heads with her little sister, Brittany, who is angry with her for leaving the family to move to L.A. and letting their dad down by not pursing college. Then Alicia's mother, Alice tells the girls that there might be a possibility that their dad's medical test might show cancer. The news upsets the girls, especially Alicia. When Alicia is helping her mother clean the house, they get into a fight about Alicia's choice to move to L.A. instead of doing the things her father wanted to do, which angered Alicia and she was seen storming out of the house. Then later in the episode, it was revealed that Alice had to make a decision to pull the plug on her husband after three months. Alicia is devastated that her father's time was up and she slips into depression. In the month after father's passing, Alicia's relationship with her mother became strained. They constantly fought about Alicia bypassing college to become a singer. Needing comfort, she turned to her ex-boyfriend, Ryan tells her that he'll always be there for her.
All About Middle SchoolEdit
In All About Middle School series, Alicia is an typical 11-year-old looking forward to a new start at Silver Hills Middle School, proving to her parents that she wasn't a little kid anymore and wanting her independence. By having her own room, getting rid of her old elementary school clothes, and liking boys. But she gets a crash course in fashion when she learns that Silver Hills Middle School students are required to wear school uniforms.
Relationships
Edit
(To Trent): "Hey, turd. I thought you were living on campus?" (First Line)
"This song sounds like my grandmother's house smells."
"Cool! I got the new Christina Aguilera ballad."
"Please, strangle that girl with her love beads."
"There's no way I can make this Jurassic song my own!"
"My Mom berated me just because I didn't flour nor grease the cake pans.
(To Sierra) "I get it Si, you're in love with Matt."
"I kissed Josh Wright. Kristy will hate me forever!"
(To Frankie): "You can't cure homosexuality!, it's who you are!"
(To Sierra): "A president is supposed to serve her people!"
"I'll never understand the power Nikki Merrick has over men.
(To Ryan): "I'm a musician, not an college-bound person."
Alicia's World
Edit
The series follows the life of American singer/actress/television personality Alicia Alcott-Frankel, age 33 and her blended family as they deal with Alicia's daily life as entertainer, businesswoman, wife and mother. The series is being done in a hybrid docu-comedy type format.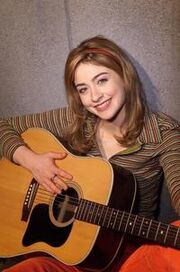 After being signed by L.A. Records, Alicia released three albums.
After leaving L.A. Records and signing to her uncle's label, Smash Records, Alicia released three more albums.
List of songs Alicia sang in All About Us book episodes.
Alicia is featured on the cover of four of the books, All About Us (with the girls), Weekend at Alicia's House (with Nikki), Flawed Logic, Raining in Silver Hills (with Ryan), Behind the Dancer. However, all four girls are featured on Pretty Little Secrets.
Alicia is the leader of the All About Us group. 
Alicia and her brother, Trent had an on and off again relationship with their love interests. 
Like her friend, Sierra, Alicia has two siblings that go to the same school as Sierra's sisters.
Both Alicia and Nikki left Silver Hills to pursue different career paths in the final book episode, All About Graduation.
She can be shown to be unstable with her emotions when things don't go her way.
Alicia was originally portrayed by former singer, Alecia Elliott, in the TV version.
Alicia is of the African and Caucasian descent.
Alicia and Ryan both share the same line, "That's just plain crazy!"
She is a fan of the Star Trek show, Star Trek: The Next Generation. However, she has avoid watching the show, since she was a little kid, but after watching reruns of the show for 12 years, she has become hooked to it.
Alicia has changed her hair many times. In the first arc, she had shoulder-length curly hair. In the second arc, she had long curly hair. S10, she turned heads with a short curly bob that lasted till S12.
She was offered to attend the Manhattan High School of the Performing Arts, as revealed in Holy, Mole-y, to escape the drama in her life, but she chose to stay after reconciling with her parents.
Alicia has once starved herself in the episode, Behind the Music and as battled an eating disorder called, Binge Eating Disorder.
She is a fan of the Kids' TV Series, Power Rangers. It has revealed that Alicia has been watching the show for 17 years.
Her phone number is 213-456-9870, while her cellphone is 213-855-5230.
Alicia has been sent home from school three times, first for violating the dress code at Silver Hills Middle School in unknown, second for getting sick during CAHSEE exams in Exam Trouble, and third for having menstruation cramps in her lower stomach and her lower back in unknown.
Alicia experienced early puberty when she was a kid. At 9 years old, she grew breasts and at 10 years old, she started her first period, making her the only character to experience this event.
Things Alicia experienced in her life were similar to the things author Maryam Wells went through in her life as well.
She enjoys playing and writing music.
She has an MP3 Player with her favorite songs.

On My Own - Patti Labelle & Michael McDonald
Genie in a Bottle - Christina Aguilera
Drive Me Crazy - Britney Spears
Turn Your Love Around - George Benson

Alicia sang Piano in the Dark, a song by Brenda Russell at Silver Hills High's annual Talent Show in.
She got a tattoo of a rose on her tricep in -.
Alicia kissed Derek Gibson in Alicia and Ryan Forever, while she was dating Ryan.

However, Ryan caught Alicia cheating on him with Derek.

Alicia is one of the six characters to be a main character in their own novel series.
She was romantically linked to both Ryan Frankel and Josh Wright in AAU.
Alicia received a marriage proposal on her 21st birthday.
She was called the "Princess of R&B".
She has had two number 4 songs in the UK top 40 chart.
Her music style is Pop, R&B, and Dance.
Ranked #41 in Fox Family's Greatest Characters.
She was named #30 on the Maxim magazine Hot 100 of 2005 list.
She has two children after her wedding.

She gave birth to her 1st child at age 26, a daughter Tia Ann Frankel. Child's father is her husband, Ryan Frankel.
She gave birth to her 2nd child at age 28, a daughter Maya Lynn Frankel. Child's father is her husband, Ryan Frankel.

Alicia is the Godmother of Sierra Jennings' three children, Michael, Aaron, and Caitlyn.
She has two nieces and two nephews from her brother, Trent and sister-in-law Will Jennings.
Alicia's mom Alice is biracial and her late dad Edward is African-American. Making her; her brother, Trent, and sister, Brittany biracial.
She was 4 months pregnant with her daughter Tia when she began recording "Alicia's Christmas Ensemble".
She returned to work 8 months after giving birth to her daughter Tia in order to begin performing Christmas songs at the Garden Grove.
She returned to work 7 months after giving birth to her daughter Maya in order to begin presenting Great Pretenders and hosting Style World.
Several characters from different spin-offs are fans of Alicia.
Alicia, Sierra, Kristy, Aaron, Caitlyn, Julie, Scott, Katie, Bianca, Leti, and Kristen all share the same line "You've got to be shitting me!"

Alicia used this line in The Grass is Always Pinker.
Sierra used this line in - The Divorce and in -.
Kristy used this line in -
Aaron used this line in -
Caitlyn used this line in -
Julie used this line in -.
Scott used this line in -.
Katie used this line in -.
Bianca used this line in Music Icon on the Scene.
Leti used this line in Marriage on the Scene.
Kristen used this line in -.

In -, she attended Nikki Merrick's wedding in 2010.
In -, she attended her brother's wedding in 2009.
She is a Virgo.
Alicia was the first and only AAU girl to consider leaving Silver Hills High for an performing arts high school.
Her parents were married in 1981.
In Give Us Strength, she didn't attended her father's funeral, but attended the repast.
She attended brother's wedding to Will Jennings in -.
Alicia is the only AAU girl to not attend her high school reunion with her friends, due to events that led her to slip into a short-lived depression.
Future characters, Julie Marshall and Bianca Watkins, from the Teens of Silver Hills franchise were based on Alicia.
It was revealed that Alicia was a fan of an all-girl pop band, Girlfriends On Ice as a kid before their split in 2003.
Several of Alicia's songs throughout the series were co-written by author Maryam Wells and songwriter Kasia Livingston. Others were written by Matthew Gerrard Kara DioGuardi.

Wells and - co-wrote Alicia's single - which is from Alicia Revealed.

Alicia covered several classic Christmas songs in Twas the Nightmare before Christmas.
Alicia had an influence on Julie Marshall because of they lost their fathers. She also had an influence on Bianca Watkins in that they had similar personalities and circumstances. She dated Ryan Frankel and Bianca dated Connor Morris who was modeled after Ryan. Julie and Bianca were in the performing arts like Alicia. However, unlike Alicia, Bianca married Connor before she graduated from high school.
As of Music Icon on the Scene, an episode from Teens of Silver Hills series, Scene 3, Alicia is working on an new album for Smash Records called This is My World and she is also developing a new fragrance.
It was revealed that Alicia's song from her Viva La Diva album, - is Bianca Watkins-Morris' favorite song.
Wore her outfit to her wedding to Ryan Frankel.
Book Comparisons
Edit
She is of the African/Caucasian descent in the books, while she's full black in the TV series.
In the books, she