Alexandra "Alexa" Andrews was a former student and cheerleader at Silver Hills High School, who left the school after being cheated on during the second semester of her junior year. She was the ex-girlfriend of Ryan Frankel.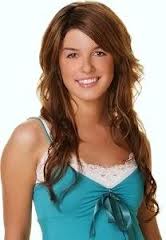 Alexa Andrews was American cheerleader of the Greek descent. She met Ryan Frankel while he was touring over the summer of 2007. She was unaware that he was cheated on by his ex-girlfriend at the time, Alicia Alcott. They both bonded over music and writing. She was first portrayed as a straight-laced, innocent Christian girl, who many found stuck up and judgmental. Then she began to change to a hot, popular, and athletic cheerleader. She has a talent for singing. When Ryan
As Ryan's girlfriend
Edit
Alexa and Ryan began dating over the summer while he was touring with his brother's band. She transferred to Silver Hills High to be with Ryan at the time. She meets Ryan's ex-girlfriend, Alicia Alcott, fellow senior at SHHS. As she and Ryan were dating, she becomes friendly towards Alicia, much to the annoyance of Alicia's three best friends. Around Christmas time, Ryan had a
Appearence and Style
Edit
Alexa Andrews can be described as a very attractive, athletic, and somewhat muscular Christian girl. She had long chestnut brown hair and brown eyes. When she met Ryan during his tour with a band, her became more bouncy and she got a tan. Due to her cheerleading activities, she became muscularly toned. In the second semester, her hair became less bouncy and she got highlights.
Her style also changed along with her appearance throughout the seasons. Her style was wholesome and humble. She often wore t-shirts and jeans when she was touring with Ryan. When she attended SHHS, she started wearing skirts and blouses to compete with both Alicia and Nikki.
Appearences
Edit
Ryan's Summer Tour
Back to School
Alexa is known to be proud in her Christian beliefs in her first few seasons.
Alexa is known to be shallow and superficial, just like Nikki Merrick.
Alexa's necklace is a gold necklace to show her Christian beliefs.
Alexa once wore the same outfit as Alicia.
Ad blocker interference detected!
Wikia is a free-to-use site that makes money from advertising. We have a modified experience for viewers using ad blockers

Wikia is not accessible if you've made further modifications. Remove the custom ad blocker rule(s) and the page will load as expected.